New Washing Machine?

Let us help you to choose the best one for you.
There are few certainties in life. One of them is that laundry gets dirty. And that dirty laundry will have to be cleaned. Sad but true. But we can help you keep things simple. Starting with this guide, in which we'll lay out the key factors you should consider, when purchasing a new washing machine.
Ready? Let's get to it!

1. Pull out the tape measure!
Space and time have one thing in common: there never seems to be enough of either.
Before purchasing your washer, make sure you've sized up the space you have available.
Oh, and don't forget to measure the width of the doors in your house! You wouldn't want to receive your shiny new appliance, only to discover it can't get through the front door!
2. Choose: top or front-load?

There are two basic types of washing machine: top-load and front-load. When making your decision, think about how and where you'll be using your appliance.
Limited space? Perhaps a top-loader would help save a few precious square inches in a cramped area.
Or you might want to purchase a dryer too, and stack the two appliances: in this case a front-loader would be your best option.
Front-load
Front-load washing machines provide excellent washing results and are resource efficient, consuming little water. As the name suggests, they open on the front of the appliance.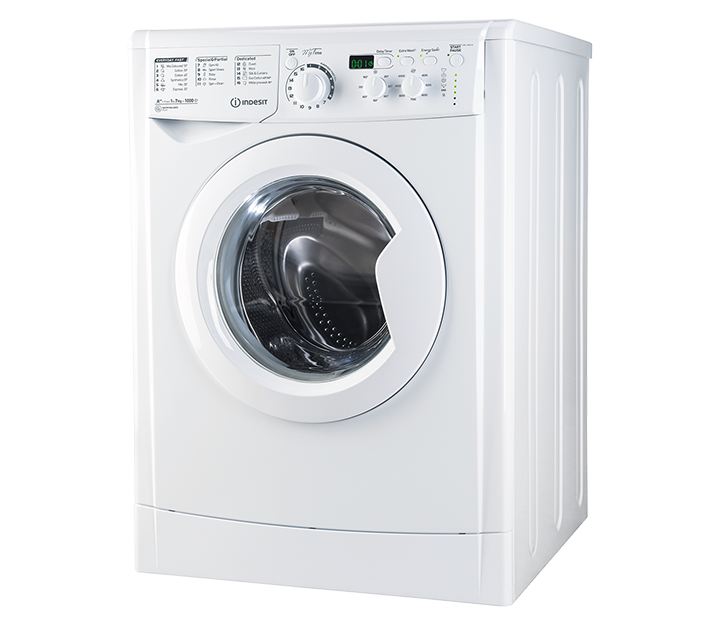 Top-load
Top-loaders, which open from the top, provide short wash cycles, and their design ensures reduced vibration during cycles.
3. Weigh your laundry
…OK, perhaps not literally, actually weighing it would be useful. But do carefully consider the average amount of laundry you and your family produce: it will determine the drum capacity of your new appliance, and this is one of the key pieces of info you need to take into account before making your purchase.
Remember: an appliance's drum capacity always refers to dry laundry, not wet. So, if the appliance you're interested in has a 7kg drum capacity, that means it can accommodate the equivalent of 7kg of dry clothes. Of course, the clothes will weigh a lot more when wet, but don't worry, the appliance is designed to handle the extra weight.
4. Pick your perks

Indesit washing machines come equipped with a number of additional features, including special cycles, increased energy efficiency, reduced water consumption, etc.
When planning your purchase, take the time to consider which ones you will require. Here's a selection of features Indesit washing machines have to offer.
My Time
My Time Front Load Washer is easy operation, washes the clothes fast and supports you to clean fabrics after sport activities. The "Sports Shoes" and "Sportswear" programs are designed to provide a more comprehensive focus on sportswear.
Turn & Wash
Dont know how to use? Indesit's top load washer has stripped the washing process down to the minimum: just turn on the button. Whether you're washing cotton, synthetics, or both, just turn the button on your washing machine, and you're all set.